About Toddlers Nursery School
Highly Qualified Staff Team
Our staff are highly qualified, experienced and dedicated to ensuring your children are well cared for.
All staff take part in continuous professional development.
All staff undergo rigorous checks to ascertain their suitability to work with children.
All staff have a DBS check.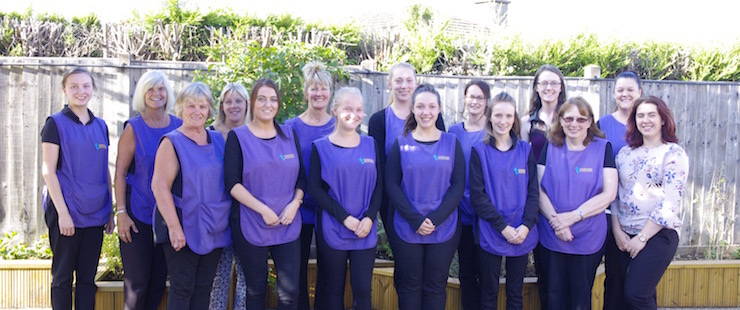 Our Fees
DAILY RATE
£63.00
Mid morning snack 
Lunch & desert 
Afternoon tea
MORNING
£35.00
Mid morning snack 
Lunch & desert 
AFTERNOON
£35.00
Afternoon tea
Extended sessions are charged at £9.00 per hour.

We accept childcare vouchers from all providers.
Nursery Education Funding is available to all 3 & 4 year old children  /  2 year old children who qualify.
Sibling discount of 10% for 2nd/3rd child attending the same sessions.
We charge for 51 weeks of the year, we do not charge when we are closed between Christmas and NewYear.
Our Aims
• Our priority is for all children to be happy and safe within our nursery.
• Enable parents to have confidence and peace of mind when leaving their children in our care.
• Make each child's welfare and development a key issue.
• Encourage children to have respect for themselves and others.
• Encourage children's confidence and independence.
• Encourage each child's sense of self worth.
• Encourage children to develop an understanding and awareness of the multi cultural nature of our society.
• Encourage children to have an awareness of and to care for the world around them.
• Provide a rich variety of stimulating activities and opportunities for children to learn through play.
• Give children a good foundation and prepare them for their future.
• Practitioners reflect our aims whilst working within the EYFS guidelines.
Healthy Eating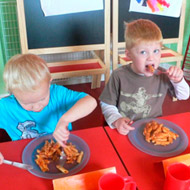 The nursery provides all the food your children require throughout the day.
Fresh home cooked meals are prepared and cooked daily using fresh local produce where possible.
Breakfast is provided until 8.30am, healthy snacks are provided mid morning followed by a two course lunch served at midday, at 3.30pm the children will have tea. 
Our meal times are relaxed and sociable, during meal times we encourage social skills such as table manners and interaction with each other, and staff. 
Children with specific dietary requirements are catered for.
Babies specific weaning requirements and routines are catered for.
Care, Learning & Play
At Toddlers Nursery School we believe in establishing a good home/nursery relationship to enable us to have continuity of care and learning, and to build upon your child's existing knowledge and experiences.
Children's care, learning and play are supported by well trained nursery nurses who aim to develop your children's emotional, physical and intellectual capabilities by offering a wide range of activities. Staff meet your children's needs through sensitive and appropriate interactions, thereby promoting your child's self esteem.
Using the EARLY YEARS FOUNDATION STAGE framework enables staff to support children in their earliest years. Staff recognise the four aspects of the framework:
A Unique Child
* Child Development *Inclusive Practice *Keeping Safe *Health and Well Being
Positive Relationships
*Respecting each other *Parents as Partners *Supporting Learning *Key Person
Enabling Environments
*Observation, Assessment & Planning *Supporting Every Child *The Learning Environment *The Wider Context
Learning & Development
*Play & Exploration *Active Learning *Creativity & Critical Thinking *Areas of Learning & Development
The framework takes as its focus the child; through the four aspects we recognise babies and children's individuality, efforts and achievements.
Children participate in a range of activities designed to form the basis of their numeracy and literacy skills; creative art and craft activities encourage the development of children's imagination providing opportunities to express feelings and ideas; activities such as listening to and making music, drama/role play, outdoor play, develop control, manipulative skills, mobility, balance and increase spacial awareness.