Welcome to Toddlers Nursery School
The first step to your child's future
Toddlers Nursery School opened in 1995, since then we have built up and maintained an excellent reputation as a local nursery offering a warm welcome to all children and parents.
Our nursery is a large detached property maintained to a high standard, our priority is for your child to be cared for in a safe and secure environment. The nursery is organised around three main group rooms to help cater for your child's individual needs. Our totally enclosed outdoor play area is arranged to encourage stimulating physical activities, whilst the indoor soft play room is a firm favourite of the children. Our aim at all times is to provide a caring environment that inspires children to learn, become independent, be creative and develop social skills.
What parents say
"Thanks so much to all the staff who looked after Ruby over the last 4 years. We are in absolutely no doubt that she has loved every minute. All the effort & support you have given her will help her start school a very happy & confident little girl"
Caroline & Nick Henton
"A very big Thank You for looking after Simar for the past 2 ½ years. She has progressed so much over the years physically, mentally and intellectually. We will miss bringing her to you as the level of care was at such a high standard."
Rash & Amrit Gill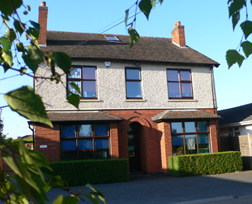 Nursery School Groby, Leicestershire
Full time sessional care

Fun and educational activities provided by fully qualified and experienced staff

Open 5 days per week,
51 weeks per year

Government funding available to 3 and 4 year old children
Session times:
Toddlers Nursery School is open from 7.45am to 5.45pm. Monday to Friday 51 weeks of the year, closing for bank holidays and the week between Christmas and New Year.